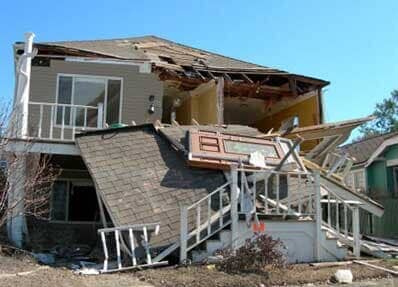 There are two common mistakes that people make regarding earthquake insurance. Most homeowners assume their Home Insurance Policy will cover the damages associated with earthquakes and choose not to add additional coverage's. Even if a homeowner is aware of Earthquake Insurance, they will opt out of the coverage because they feel it is unnecessary.
Depending on the coverage options you choose, Earthquake Insurance will cover the cost of your damaged home and any assets that are damaged on your property. Do not make the mistake of thinking earthquakes are regional or too far in-between, every area of the country is at risk for earthquake damage. Although some areas are much more of a risk than others, no area is immune.
Flood Insurance provides protection for destruction and financial devastation caused by floods. Although it may not seem like much even a few inches of water can cause serious damage; resulting in thousands of dollars in repair and restoration costs. Homeowners Insurance does not cover floods. Although it may not seem as necessary as Homeowners Insurance, Flood Insurance is important if you want to keep your home safe and your possessions secure. Flood Coverage offers protection against losses that result from heavy and lengthy rain falls, storm surges, blocked storm drainage systems, snow melts, etc.
Different types of policies are available based on your property's location and flood history.
Standard Flood Insurance Policies
If you live in a community that participates in the NFIP, your building and its contents can be covered by a Standard Flood Insurance policy. The National Flood Insurance Program (NFIP) was established by the Federal Government to help communities who "voluntarily participate in the NIFP by adopting and enforcing floodplain management ordinances to reduce future flood damage." To be considered a flood, the waters must cover at least two acres or affect at least two properties. You must apply for building coverage and contents coverage separately if you choose to invest in a standard flood insurance policy.
Preferred Risk Flood Insurance Policies
If your home or business is in a low or moderate risk zone, your building may qualify for a low-cost preferred risk policy. While you aren't required to purchase Flood Insurance in low-to-moderate risk areas, a preferred risk policy will protect your home and its contents if you are affected by a small flood or a larger flood that has extended into your low-risk area.
In truth, many Flood Insurance claims occur in low-to-moderate risk areas.Don't wait until it's too late. Contacting New Horizon Insurance Services today will get you on the path to flood protection with an affordable and comprehensive insurance policy.
Contact New Horizon Insurance Services to receive more information on securing an Earthquake or Flood policy and protecting your home and assets.
At New Horizon Insurance Services we take the time to truly recognize your insurance needs so that your personal assets are protected at the most competitive rates, and most importantly, our comprehensive solutions cover a wide range of risk.
Discounts that could significantly lower your insurance premium aren't the only reason to place your insurance policies with us. Competitive pricing, customer service, and peace of mind are more reasons to put us to work for you. We'll help you design a policy to meet your needs. We'll show you what coverage may be available and how to get the personalized protection you need. The fact is that things change, times change, and chances are your policy may need to be updated to meet your changing lifestyle. You've worked hard to get where you are, and you have a lot to look out for. You deserve the right policy at the right price.
New Horizon Insurance Services wants to be here for you to meet all of your insurance needs. Our extensive experience has enabled our dedicated agents to manage multiple policy lines all while saving you valuable time and money.
Remember, no matter where you are located, whether it's Fresno insurance, Clovis Insurance, Madera Insurance, Oakhurst Insurance, Merced Insurance, or anywhere else in the Central Valley, or state for that matter, one of our dedicated independent agents would be happy to serve you!